Back to Money Basics
Insurance
What Is Car Insurance and How Much Do I Need?
If you've ever owned or leased a vehicle in your life, you've probably had to buy car insurance. But unless you've dug deep into your policy documents—or been in the unfortunate position of needing to file a car insurance claim—you might not be so familiar with the ins and outs of it.
What is car insurance?
Car insurance is a type of insurance coverage that protects you financially if your car is in an accident or gets stolen or damaged.
What does car insurance cover?
The basic car insurance policy most states require covers the costs associated with injuries, deaths or property damage caused by you or someone driving your car. For most basic policies, coverage applies to those affected by your driving, not yourself or your property. You'll probably need additional coverage for that.
Medical payments or personal injury protection covers injuries you or your passengers sustain as well as lost wages or other expenses.
Uninsured motorist coverage safeguards you against damage or injury caused by drivers without insurance or hit and runs.
Collision coverage pays out for damage to your car that you're found to be at fault for, like crashing into a tree.
Comprehensive coverage accounts for theft or damage from something other than a collision, like fires, vandalism, even a meteor crashing into your car. Comprehensive coverage is truly that comprehensive.
Glass coverage, as the name implies, covers glass parts of your vehicle like your windshield, which are particularly susceptible to damage.
Gap insurance covers the difference between your car's current market value and its value when you bought it. Without gap insurance, totaled or stolen cars may only be covered up to their current market value, which may be significantly less than you paid for it, given how fast cars depreciate in value.
If you use your car for delivery or ride-sharing work, you may also need commercial auto insurance. Check your policy or with your insurer to determine the coverage you need.
How long does a car insurance policy last?
Most car insurance policies are for six-month or year-long periods. Select insurers may offer monthly or quarterly policies, though the rates may be higher.
How does car insurance work?
Like most forms of insurance, car insurance requires that you pay a monthly fee, called a premium, to ensure you're covered financially if something bad happens that falls within your coverage.
If it does, you generally aren't completely off the hook financially. Your policy probably has a deductible, or a minimum amount you have to pay before your insurance takes over payments. But having insurance should help defray major costs.
How much does car insurance cost?
The average auto insurance policy costs $1,427 a year, according to Nerdwallet's 2020 rate analysis.
Individual rates vary based on year and make of your car, the amount and type of coverage you sign up for, how safe a driver you have been in the past, your age (young and old drivers typically pay more) and other factors. Your premium will also vary based on whether you opt to have a lower deductible. In general, the lower your deductible, the higher your premium is (and vice versa).
Do I need car insurance?
All but two states—New Hampshire and Viriginia—require you to have some type of insurance on file, and if you're financing a car, your lender may have its own requirements about the level of insurance you need. Even if you're not required to have auto insurance, you're still legally on the hook for any damage your car may cause, which can add up quickly.
The National Safety Council estimates the average cost of just property damage from a car accident to be $4,400, or almost three times the average cost of car insurance. Any related injuries may add on tens of thousands of dollars of expenses, making car insurance a particularly good investment.
Do I need car insurance if I rent a car?
If you have car insurance for a personal vehicle, your policy probably carries over to your rental. But even if you don't, the credit card you use when renting a car may provide some coverage. Check with your credit card issuer to see what kind of rental insurance it automatically offers.
If you're concerned about your car insurance and/or credit card coverage not being sufficient, most rental agencies will allow you to purchase additional rental insurance when you pick up your car.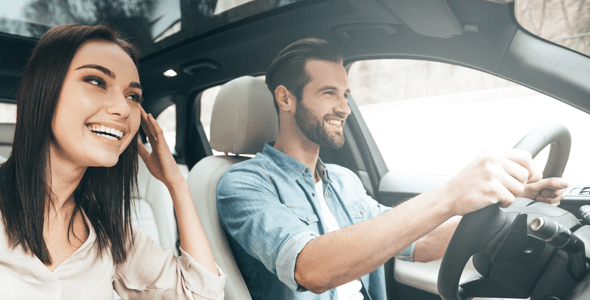 Where can I get car insurance?
After you've determined your car insurance needs, most auto insurance companies will be able to provide you with any combination of car insurance coverage. (If you're leasing your vehicle, be sure to check your contract to see if certain things, like gap insurance, are already built into your payments.)
How can I save money on car insurance?
Opt for six-month over year-long policies
Insurers constantly reconfigure how they calculate policy rates, and by searching for a new policy every six months, instead of once a year, you may be able to jump on a competitor's lower rates—or even a lower rate at your current insurer, if its calculations have changed.
Be a safe driver
Insurers understandably prefer drivers who aren't in many (or any) accidents and who don't engage in dangerous driving habits, like speeding. If you're recognized as a safe driver, you may be eligible for discounts or lower rates. And if you get in an accident or get a speeding ticket on your record, you may end up paying a higher premium. (If you have a ticket or accident on your record, you may be able to reduce what you pay for your premium by taking a defensive driving, or accident prevention, class. Check with your insurer.)
Consider a usage-based policy
If you don't drive often, look out for policies that offer drivers lower rates for driving less. Also known as "pay-as-you-drive" policies, this type of car insurance generally requires you to install a telematics device into your vehicle to track your mileage as well as indicators of risky driving behaviors, like speeding and hard braking.
Bundle your policies
Some insurers may offer you discounts on policies if you agree to bundle multiple types of policies, like renters insurance and car insurance, with them. If you have a relationship with an insurer already, look to see if any bundling incentives are available to you.
Show off your report card
If you're still a student, your insurer may reward good grades with discounts on your premiums. Check with your insurer to see what student incentives may be available.
Invest in a reliable, safe car
When calculating premiums, insurers consider industry safety reports. If your car's make and model is known to be dangerous in car crashes, you may see this reflected in your policy. Although you probably shouldn't go out of your way to buy a new, more highly rated car immediately, investing in a car with good safety ratings when you're ready for a new vehicle may save you on insurance premiums.

This article contains the current opinions of the author, but not necessarily those of Acorns. Such opinions are subject to change without notice. This article has been distributed for educational purposes only and should not be considered as investment advice or a recommendation of any particular security, strategy or investment product. Information contained herein has been obtained from sources believed to be reliable, but not guaranteed.