Back to Money Basics
Insurance
What Is Homeowners Insurance and Do I Need It to Buy a Home?
When you picture your dream home, you probably don't envision your dream homeowners insurance policy alongside it. But maybe you should.
The average price of a new home runs more than $360,000, according to the U.S. Census Bureau, meaning your home is probably the most valuable thing you'll ever buy. Without a good homeowners insurance policy, though, there's a risk it could also become one of your biggest expenses.
What is homeowners insurance?
Homeowners insurance is a type of insurance that generally covers damage to your home or theft of personal property from your home. Like most forms of insurance, homeowners insurance works by spreading out risk.
By paying a monthly fee called a premium, you enter into an agreement with an insurer that, in the event that your home is damaged, it will cover any associated costs (in most cases—more details below). You get peace of mind that your home is protected. Your insurer makes the bet that few customers will file large claims. That allows it to cover any claims made as well as (hopefully) turn a profit.
How much does homeowners insurance cost?
The average homeowners insurance policy premium clocks in at just under $1,200, according to the National Association of Insurance Commissioners.
Individual policies may differ based on state, location, home value, liability coverage and your credit score, among other factors. You may pay a higher premium to have more coverage or to have a lower deductible.
Do I need homeowners insurance if I buy a house?
That answer largely depends on how you're planning to buy it. Although regardless of how you plan to purchase your home, insuring it is probably worth considering. (More on that below.)
Do I need homeowners insurance if I pay all cash for a home?
According to the June 2019 National Association of Realtors survey, just 16 percent of all home purchases were made in all cash.
If you're one of the lucky buyers able to drop an all-cash payment for your abode, you may not be required to take out a homeowners insurance policy. That said, there are still benefits to having homeowners insurance, detailed below, so don't rule it out just because it's not required.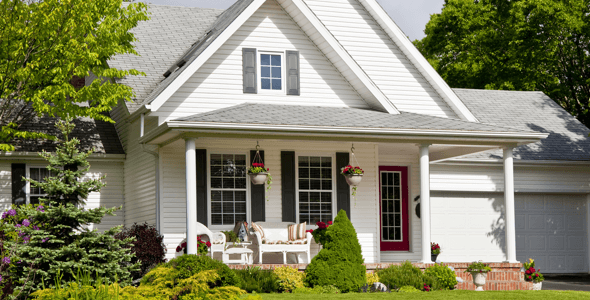 Do I need homeowners insurance if I take out a mortgage?
Unless you paid all cash for your home, you probably took out a mortgage to purchase your home. With that, you may have agreed to have homeowners insurance to cover any damage to your home—both you and your lender don't want that investment to lose value, after all.
Be sure to check your mortgage loan agreement before opting out of homeowners insurance, if that's an option. Your lender may then take out an insurance policy for your home and just add the cost to your regular mortgage payments. See your contract for full details.
Even if you aren't required to have homeowners insurance, that average $100-a-month policy may end up saving you a lot more in the long term. The average homeowners insurance claim payment was more than $12,000 from 2013 to 2017, according to the Insurance Information Institute. That's about 10 times the average annual premium. And if you ever found yourself in the unfortunate situation of needing to rebuild your entire home, that number could exponentially multiply.
What does homeowners insurance cover?
Homeowners insurance covers your physical home structure. In the event your home is damaged or destroyed by a natural disaster, homeowners insurance provides funds to rebuild and may also cover a percentage of damage to secondary property structures, like garages.
It's important to note that most homeowners insurance policies do not cover flood or earthquake damage, meaning you may need to select a policy add-on called a rider to account for those natural phenomenons. And like with health insurance, you'll normally have a deductible, or the set cost you have to front before your insurance coverage kicks in for all types of claims. So read the fine print before you purchase a policy.
Homeowners insurance covers your household possessions
Homeowners insurance protects everything from your electronics to your clothing and furniture. That means if they get damaged in a fire or stolen from your home, your insurance company will shell out either their current or replacement value, depending on your policy. It may even cover your possessions when they're damaged or stolen outside of the home, like if your iPhone gets swiped at a coffee shop.
A small caveat: For damage or theft that occurs away from your home, your insurance may cover less than it would if the item was stolen from your home. You may also be responsible for a deductible. Be sure to check potential policies' fine print before signing.
Homeowners insurance covers more than just your stuff
When you take out a homeowners insurance policy, you're insuring more than just the value of the things you have in your pad. You're also gaining protection against certain liabilities, like if someone gets injured at your home. Expenses related to home-based injuries can add up when you factor in loss of wages and medical costs.
As with possession coverage, homeowners insurance liability coverage may also cover you away from the home. So if your dog bites another dog at the park, for example, your homeowners insurance may pay for the cost of any resulting medical bills.
How much homeowners insurance coverage do I need?
A good rule of thumb is to insure your home for at least the amount it would cost to build it again. That includes construction materials and labor and any hard-to-replace features.
While your insurance policy might by default offer enough coverage for all of your possessions, be sure it's enough for any particularly pricey pieces, like jewelry, collectibles or electronics. You may want to add additional coverage to account for really expensive-to-replace items.
Is anything else covered?
Insurers may allow you to purchase coverage for the actual cash value or the replacement value of your things. Actual cash value reflects the current worth of something, accounting for depreciation from age or use. Replacement value is how much it would cost you to buy a new version of what's been damaged or stolen. If given a choice, select the type of value coverage that works better for you.
Most policies cover hotel stays, and additional related expenses, in the event your home is rendered unlivable by fire or another disaster. But check to be sure. If the coverage is lacking, you may also want to add on Additional Living Expenses coverage, a policy add-on that helps to defray costs of hotel stays while you wait for your home to be repaired.
How can I get homeowners insurance?
Most leading insurers offer some form of homeowners insurance.
This article contains the current opinions of the author, but not necessarily those of Acorns. Such opinions are subject to change without notice. This article has been distributed for educational purposes only and should not be considered as investment advice or a recommendation of any particular security, strategy or investment product. Information contained herein has been obtained from sources believed to be reliable, but not guaranteed.