Back to Money Basics
Saving
How to Eat Healthy on a Budget
Following a healthy diet is one of those goals that most of us aspire to. But it's no secret that eating healthy foods can sometimes be expensive—and that can cause many people to believe that the goal of healthy eating is one that's out of reach.
The truth of the matter is that healthy eating does not need to equate to an outrageous grocery bill every time you head to the store to stock your fridge. In fact, eating healthy on a budget is much easier than you might think.
With the following tips, you can take steps to eat a more healthful diet—all without breaking the bank.
1. First, create a budget.
A budget is simply a plan for how you will spend your money. If you're going to eat on a budget, then you've got to create one.
Estimate how much money you take in during an average month, and then immediately earmark funds for any recurring expenses—things like your mortgage payment or rent, utilities, car payment, and other debt. Be sure to factor in any financial goals you might be working towards—like retirement savings or extra payments on debt.
While there isn't necessarily a magic number of how much of your income you should designate for food, the USDA estimates that the average U.S. household spends about 10 percent of their budget on food.
Use your budget to determine how much money you want to spend on food each month and then do everything in your power to stay within that budget.
2. Consider meal planning.
Once you've got a budget, you know how much of your income you can spend on food. The trick now is to make sure you don't exceed that budget.
Meal planning is the practice of mapping out your meals in advance (whether a few days or few weeks) on a list and using that plan to inform your shopping habits. When paired with meal prep, it can be an incredibly powerful strategy that you can use to stay on track with both your diet and your food expenses.
By planning out your meals ahead of time, you'll know exactly what ingredients you will need to cook your dish. This gives you an opportunity to take stock of what you already have on hand, potentially helping you avoid unnecessary purchases. It also makes it easier to make a list before you head to the store. And meal prepping removes the temptation to buy takeout during a busy week, which could blow a hole in both your budget and your diet.
3. Stick to your list.
That list we mentioned above? Following it and only buying items that you've got solid plans to use can help you from mindlessly adding items to your cart as you walk through the grocery store.
Plus, if you've already successfully planned out your meals for the week, then there is no reason for you to add any items to your cart anyway. In fact, if you buy items that are not on your list, it probably means that you're going to buy more food than you can realistically eat in a week, which could potentially lead to quite a bit of waste (see below).
A great tip to help you avoid diverging from your list is to make sure that you don't shop when you're hungry. Research from the University of Minnesota's Carlson School of Management confirms what we've known all along: Shopping when we're hungry can cause us to spend more money than we plan—up to 64 percent more!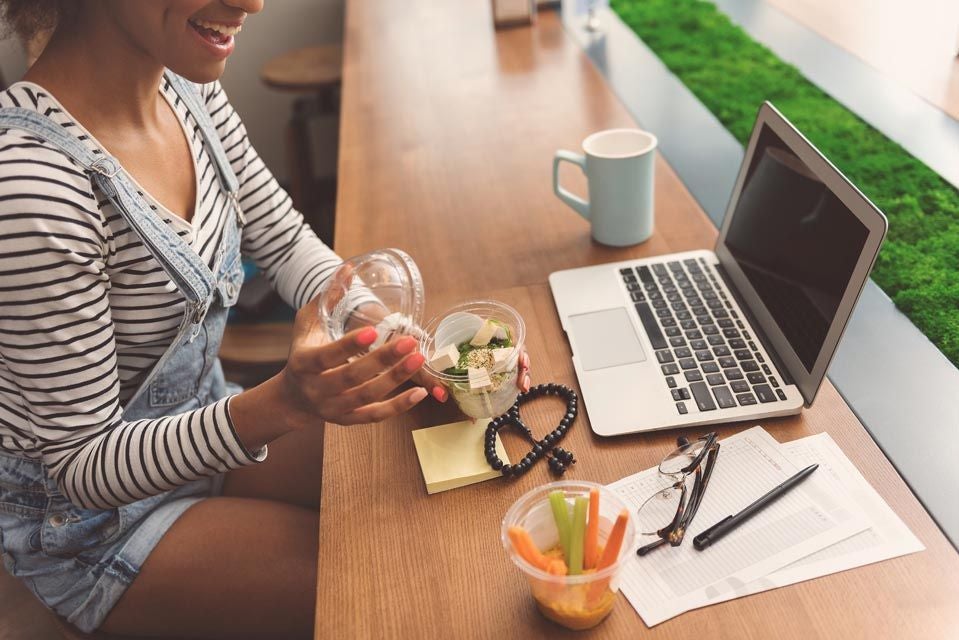 4. Use everything that you buy.
According to the Environmental Protection Agency (EPA), the average U.S. family of four throws away nearly $1,600 worth of food each and every year. That equates to roughly $400 per person, tossed into the landfill—to the detriment of our wallets and our planet.
Why do we end up wasting so much food? Some of the credit goes to confusion over best-by/use-by dates. Some of it goes to contamination by vermin (like rodents and insects). But the vast majority of credit goes to our collective inability to plan. Simply put, we buy more food than we need, which then spoils.
Just think of what you would be able to do with an extra $400 that you would save if you only bought food that you knew you would use. You could build an emergency fund, pay down expensive debt, start investing, go on a vacation—you get the picture.
5. Stock up on cheap, but healthy, staple ingredients.
Ingredients like beans, lentils, whole grains, frozen vegetables, eggs, etc. are staples for a reason. They're an appealing combination of cheap and healthy and also have a long shelf life. Because they'll last for quite some time in your cabinets, fridge or freezer without going bad, that limits your waste. This also means that it's relatively safe for you to buy in bulk, which can lead to substantial savings compared to buying smaller quantities.
6. Skip pre-cut/pre-portioned meals and ingredients.
Maybe you're running late on your way home from work and in a rush to cook dinner. Maybe you just hate washing and chopping vegetables. Whatever the reason, you find yourself running into the grocery store and buying a cart full of ingredients that promise to get dinner cooked a lot faster—like ready-to-heat meals or pre-cut veggies.
Unfortunately, this convenience comes in the form of higher prices at checkout.
For example, let's say that your recipe calls for onions. You could buy an entire five-pound bag of whole onions for $5. Or you could buy a 12-ounce container of diced onions from the prepared foods section of the grocery store for $2.49.
Choosing unprepared ingredients instead of pre-prepared ingredients (whenever possible) can add up to big savings over the long run.
7. Stock up when there are sales, and buy produce when it's in season.
If you see that your favorite healthy foods are on sale don't be afraid to stock up—so long as you know you'll use everything before it goes bad. Dried goods are great candidates for this tactic, as are frozen vegetables. Even fresh fruit and vegetables can be bought in bulk, chopped, and then frozen, which saves you money now—and time later, when you go to use them.
One caveat here: Try to limit your produce choices to only those items which are in season. These tend to be the cheapest options, and can often be the healthiest options, too. Out-of-season produce must be shipped from far away locations, a process that can cause it to lose quite a bit of its nutritional value. As just one example, packaged spinach can lose up to 80 percent of its vitamin C after just three days of refrigerated storage.
8. Don't pass up on "ugly" produce.
According to some estimates, up to half of the produce that is grown and harvested from American farms never makes it to a dinner table. Not because it has started to spoil, or because it has been contaminated with a toxic substance—but because it is "ugly."
Produce with cosmetic blemishes (think a bruised apple, bumpy cucumber, misshapen carrot, or off-color eggplant) is often thrown straight in the compost heap instead of leaving the farm. But sometimes, these imperfect fruits and veggies do make it to a grocery store.
In these cases, many stores will mark the produce down—sometimes substantially—in order to encourage customers to buy them. And because there is nothing wrong with these items (they are nutritionally equivalent to unblemished produce) this can be a great deal for customers looking to eat healthy on a budget.
If your local grocer doesn't offer marked-down produce, don't fret: You can sign up for a delivery service that specializes in keeping these items out of the landfill. Imperfect Produce and Misfits Market are two popular choices.
9. Be smart about organic.
Growing evidence points to the health benefits of organic foods versus non-organic foods. Not only do organic foods have a higher concentration of nutrients compared to their conventionally grown counterparts, they also tend to have lower concentrations of toxic metals like cadmium, less pesticide residue, and less risk of antibiotic-resistant bacteria.
The financial downside? Organic produce often costs more. According to Consumer Reports, organic foods cost an average of 47 percent more than a non-organic version of the same item. Still, if you do choose to purchase organic versions of your favorite foods, you can save a substantial amount of money by simply making smarter choices.
Different types of produce tend to have different levels of pesticide contamination, due to the conditions necessary to grow them. Fruits and vegetables that attract a lot of insects or which we consume whole (including the skin) often carry a higher risk of contamination. Those that are naturally repellent to insects or which have thick skins that we don't usually eat carry less risk. By consulting lists like the Dirty Dozen or Clean Fifteen, you can buy organic produce when it matters most to your health.
10. Consider skipping meat.
Although meat is, on average, much more affordable in the United States compared to other parts of the world, the fact remains that it is still often one of the most expensive ingredients in any recipe. And depending on how much fat the particular cut has on it, it can also be a calorie bomb just waiting to derail your diet.
Switching to a plant-based diet that prioritizes fruits, vegetables, whole grains, and legumes is one way that you can improve your health while also reducing your grocery bill. Don't fancy yourself a vegetarian? Even just going meatless for one meal a day or a few times a week can add up to big health and financial benefits.
11. Beware of succumbing to lifestyle creep.
According to the United States Department of Agriculture (USDA), American households spend more money on food when their income rises. While households in the lowest income quintile spend about $4,000 annually on food, those in the middle quintile spend about $7,000 annually, and those on the highest end of the spectrum spend close to $13,000.
It is true that, as income rises, the total percentage of a household's income that is earmarked for food actually decreases. But in a dollar-to-dollar comparison of lowest-income households to highest-income households, that's a difference of a whopping $9,000, which is hard to justify no matter how you look at it.
The Bottom Line
While many people believe that healthy eating requires a willingness to spend some serious money on food, the fact remains that it can actually be very easy to eat on a budget. By planning your meals ahead of time and being smart about your food choices, you can stick to your budget and free up money to put towards your other financial goals.